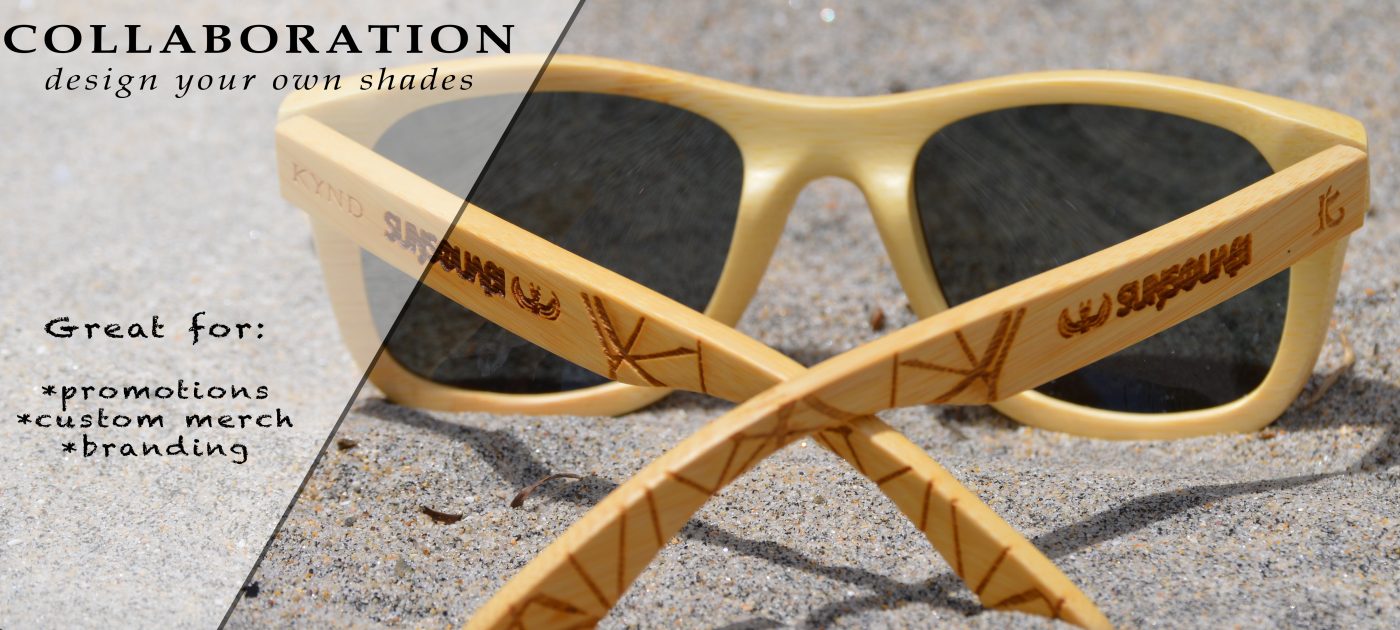 Welcome to the collaborations page, where you'll learn all about how to team up with Kynd to create fun, custom works of art on our sustainable bamboo sunglasses.
HOW DOES IT WORK?
MAKE YOUR OWN CUSTOM BAMBOO SUNGLASSES
We can laser etch any design, logo, or pattern you want onto the sides of the sunglasses and top of the bamboo cases.  You create it, we make it, everyone loves it.
The 5-step process is simple & easy.
Choose your frame style, quantity, and lens colors.

Example:  20 Chocolat O.G.'s –  5 w/ Ice Blue lenses, 5 w/ Smooth Brown, 10 w/ Jet Black.

We'll send you an easy-to-use template which you can use to create your own kick-ass designs.

You can hand draw your designs or do them digitally.  We'll include convenient tips & tricks on how to create the most awesome designs possible.  It can be as easy as copy & pasting your logo or existing artwork onto our template, or as complex as hand drawing the Eiffel Tower.

Approve the digital sample.  We'll mock up your artwork so you can see approximately what it will look like.

A physical sample is available for $58.75 + $100 deposit.  The deposit will be refunded if you place a full order within 60 days.

We make your whole order from scratch.  Typically 50-90 business days or less.
You, your friends, and your customers enjoy some amazing, one-of-a-Kynd, eco-friendly bamboo sunglasses.
Minimum order is just 20 pairs, and a bamboo display stand is available if needed.
Contact us now to start your order!
WHAT'S IT GOOD FOR?
Custom, sustainable merchandise for your store, brand, or band – Great way to bring in extra revenue.
Special gifts/accessories for your wedding – Sunglasses to match the wedding party?  What a great keepsake.
Bamboo sunglasses sporting your company's own logo & artwork
A stylish way to promote your premier, festival, or brand – Fun, fun, and more fun!
Personal joy – Sometimes you just want your own cool design, and there's absolutely nothing wrong with that.
F.A.Q.'s
How much does it cost?  Orders of 20 start at just $1,199 – only $58.75/pair – bulk discounts available.  (M.S.R.P. of our custom designs is $129/pair)
What designs can I get?  Generally speaking, whatever you want – we can etch almost any design onto our sunglasses.  Mona Lisa? We can do that.  Lightning pattern on the frames?  Ya, we've done that too.
Do I make the artwork myself?  Yes.  We'll send you an easy to use template, and you can create your designs via computer or you can hand-draw them.
Can you do the artwork for me instead?  Yes, our design fee is $50/hr and it typically takes 1-2 hrs per design.  Just send us your ideas and we'll whip up something awesome for you!
How long does it take?  10-15 business days for a sample.  50-90 business days for production (depends on season, order size, and design complexity). Rush delivery available.  Each order is made from scratch, so you'll be getting the freshest of the fresh 🙂
COLLABORATIONS GALLERY